Links
Interesting Reading
Seniors
Healthcare
Education
Insurance
Provincial Parties
Consumer Information
Archives
Check out previous postings

By Date - See Below
What's Your Political Stripe
Are you more like George Bush or Nelson Mandella? Pope Jean Paul II or the Dalai Lama? Take a 5 minute test and find out where you fit. Email me your results if you want along with which Alberta Party you support today; PC, Liberal or NDP. I'll compile the results and post them here; anonymously of course.
Take the test at:The Political Compass.
Let us know if you have any comments to contribute. If you find any interesting sites we would be glad to add them to the list. We'll post your comments with or without your name if we think they are appropriate. If you want your name used, please say so in your e-mail or it won't be used. We will never post your e-mail address. Hope to hear from you and hope you enjoy Ralph's World.

Ralph Klein has gone and it is time to retire Ralph's World. Thanks to all of you who have supported this venture by contributing material and through your comments. It has been fun.

Should we get another blog underway? Let me know your thoughts by e-mailing me at johnnyslow@gmail.com.

John Slow
January 1, 2007
Sunday, May 09, 2004
Welcome Aboard General Pinochet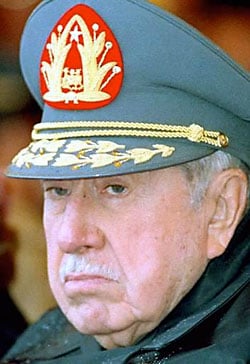 Premier Ralph Klein announced today that the Alberta Government has retained the services of Chilean General Augusto Pinochet Ugarte. The General will be working in the Premier's Public Affairs Bureau and will be advising the Premier on "difficult" communication issues. His first task is rumoured to be the selling of the Auto Insurance package expected out in about six weeks. He is well-known in his native Chile for persuading citizens to see his side of an issue.
Interviewed by phone from his home in Santiago, he said he was thrilled to working with a government that took fighting Communists seriously and that he was looking forward to sharing "war stories" with Steve West.
Klein has been a great admirer of the General ever since in spent an "all-nighter" doing a term paper on Chile for a course he was taking at Athabasca University.
See related Globe & Mail Story
If you would like to read his paper,
click here
.
The General was hired after an extensive candidate search on the
Dictator for Hire
website.